Dienstag, 9. Juni 2020 |
The University of Freiburg is starting a summer semester that will be shaped by digital teaching. Freiburg, May 11, 2020
Within a few weeks, the University of Freiburg has changed its course offerings almost across the board: Whereas e-learning was previously considered a complementary and enriching alternative, digital formats will be the new standard in the 2020 summer semester across all disciplines and courses of study. According to the Corona Ordinance, the only exceptions will be some laboratory courses. The University can profit in the long term from the experience gained in this special semester.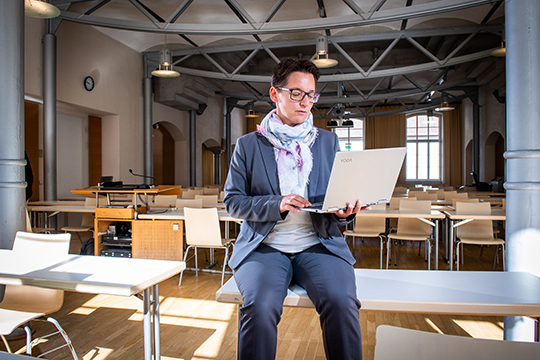 The lecture hall remains empty and the lecture takes place: Lecturers at the University of Freiburg use digital formats so that students can complete their courses entirely by distance learning. Photo: Klaus Polkowski
For several months now, students and lecturers at the University of Freiburg have been working together in a co-creation process to develop a digitalized teaching strategy, a project that has once again become immensely more topical and important. Due to the corona pandemic, instruction at the University of Freiburg during the 2020 summer semester will almost exclusively take place in digital formats. It is planned that lecturers will be able to switch to a supplementary attendance mode from June 15, 2020. However, they must ensure that students can complete the course completely in distance learning, emphasizes Prof. Dr. Juliane Besters-Dilger, Vice-President for Academic Affairs: "We must still expect many absences in the coming months, for example due to illness, quarantine measures or border entry difficulties for teachers as well as students. It is therefore imperative that teaching continues digitally throughout the entire summer semester."
Video chats, discussion forums, study groups
Technical and didactic tools for e-learning are available to a large extent at the University of Freiburg, says Prof. Dr. Gerhard Schneider, Vice-President for Digital Transformation and Director of IT Services: "The ILIAS learning platform makes it possible to make recorded lectures, literature and learning tasks available online, but also to set up discussion forums, to meet synchronously online via a virtual classroom system and to communicate via video chat." A flexible area is provided so that students can form their own learning groups and use all available tools independently. Despite all this, it will not be possible to offer an equivalent substitute for every format of face-to-face teaching, but the teachers are enormously committed and try to make the best of the situation, emphasizes Besters-Dilger: "Among other things, creative approaches are being developed to even offer virtual alternatives to laboratory internships and excursions, for example."
More exam flexibility
The University of Freiburg has laid down the essential framework conditions for study and teaching procedures for the summer semester in its Corona Statutes (in German). According to the statutes, lecturers are allowed to deviate from the specified type of coursework and examinations in this semester. They can use digital solutions for every type of oral exam. Written examinations are also possible, although distance and hygiene regulations apply. All those present must maintain a distance of at least one and a half meters between themselves and wear a mouth-and-nose cover when entering the lecture hall.
The transition to digital teaching for about 25,000 students is, however, a completely new situation for which there is no history. Up to now there have always been about 4,000 students at ILIAS at the beginning of each semester, Gerhard Schneider states: "We are very well positioned with regard to the competence of our team, but not for the burden we now expect." IT Services is currently expanding the technical infrastructure, but the summer semester will still be a challenge regarding network and server capacities.
A boost for digitalization
The University of Freiburg will gain many new insights during this special semester. Which e-learning formats will prove to be useful in which subjects? Where does further technical or didactic support from the University need to be provided? What additional resources are required? "Many things will succeed, but some things will also fail, and for this we are already asking our students for indulgence and understanding. Despite all the restrictions we have to deal with, we also see a great opportunity to learn together as a university," says Besters-Dilger. The semester will show in many ways what potential lies in the digitalized instruction and what will also prove itself in the future, when the lecture halls, seminar rooms and laboratories will hopefully once again be able to be used without restriction.
Nicolas Scherger
This article was originally published on the Friends of Freiburg Alumni North America blog.